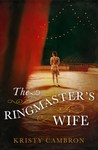 The Ringmaster's Wife by Kristy Cambron
My rating: 5 of 5 stars
"What is revealed when you draw back the curtain of the Greatest Show on Earth?
Rosamund Easling is no stranger to opulence. As the daughter of an earl, she's grown up with every comfort money can buy. But when hard times befall the family's Yorkshire estate in the aftermath of the Great War, Rosamund's father sells her beloved horse, setting the stage for a series of events that would extend beyond even her wildest dreams.
Though expected to marry for a title instead of love, Rosamund feels called to a different life – one of adventure outside the confines of a ladies' parlor. She abandons all she's known and follows in pursuit as her horse is shipped to the new owner – an American entertainer by the name of John Ringling. Once introduced to the Ringling Brothers' circus and knowing she has much to learn, Rosamund agrees to a bareback riding apprenticeship in the shadow of the Ringlings' winter home—Ca'D'Zan. It is at that mansion, in what would become the last days of the enigmatic Mable Ringling's life, that Rosamund finds a deeper sense of purpose in the life she's been given, and the awakening of faith in her heart.
With a supporting cast of characters as mysterious and dazzling as the Ringlings' big-top world, Rosamund's journey takes her from the tradition of the English countryside to the last days of America's Roaring '20s—a journey that forever changes what one life might have been."–Goodreads
Imagine your grandmother giving you an old cigar box. Inside, you find a handful of old photographs. In the first is a girl, sitting in a rocking chair on the porch of an old farmhouse. Another of her standing in front of a fancy building. The next pictures are years later, featuring a different girl. The first shows her on the back of a black horse. Another shows her on a hay bale, with roses in her hair. And last of all, there is a picture of a sky-high, striped circus tent. "Let me tell you a story," your grandmother says.
******
That's how I picture this story. It is a series of snapshots, images from the lives of two different girls. The story follows bit and pieces from their lives, as they grow and change, and eventually intertwine. This is not a plot heavy book; the plot is carried on the shoulders of the characters. The book is all about them, and their interactions–while there is a small mystery involved, it is but a sideshow to the characters. Part bildungsroman, part historical romance, and entirely a story of courage and personal growth.
It is set in America, during both the late 1800s-early 1900s, and the 1920s. We see glimpses of the Chicago World's Fair, the Florida Keys, and the Ringling Bros. Circus. The setting isn't developed much in the story. Instead, the reader is given just enough glimpses and hints to set the stage for the characters.
The main characters are Mable Burton, a farm girl turned waitress in Chicago during the World's Fair, and Lady Rosamund Easling, a daughter of high society escaping an arranged marriage. While they both have very similar personalities, they are also distinctly different. Mable is running to something, while Rosamund is running away from something. Mable is very sweet and empathetic, and is dedicated to bringing joy to all around her. Rosamund is more reserved, and cautious when it comes to relationships. However, they are both courageous young women. While I can't agree with all of the choices they made, I can see how it grew them and made them better persons.
The only criticism I have for this book is the author's style of writing. It was very confusing trying to figure out whose POV is was (it changed often and without warning). Also, a lot of the dialogue tags seemed misplaced, and made it a struggle to figure out who was saying what. Once you settle into the style however, the story sweeps you away.
I highly recommend this read to those readers who are all about the characters. It drew me in, and kept me wanting to read more about Mable and Rosamund's lives. This is a hot cup of tea beside a warm fire kind of book. Cozy, sweet, and completely satisfactory. However, for readers who prefer more excitement and plot, they be disappointed in The Ringmaster's Wife.
Rating: 5 stars
Recommended: Yes. 14 and up. (Younger readers may have trouble following the story, and might lose interest)
Content guide:
Language: 0/10
Sexual Content: 1/10 (light kisses)
Violence: 4/10 (one character is attacked–semi-detailed)
Other notes: some characters have drinking problems, but it isn't seen on page. One character has a criminal past.
For more reviews, see gabriellenblog.wordpress.com or fullofbooks.com.